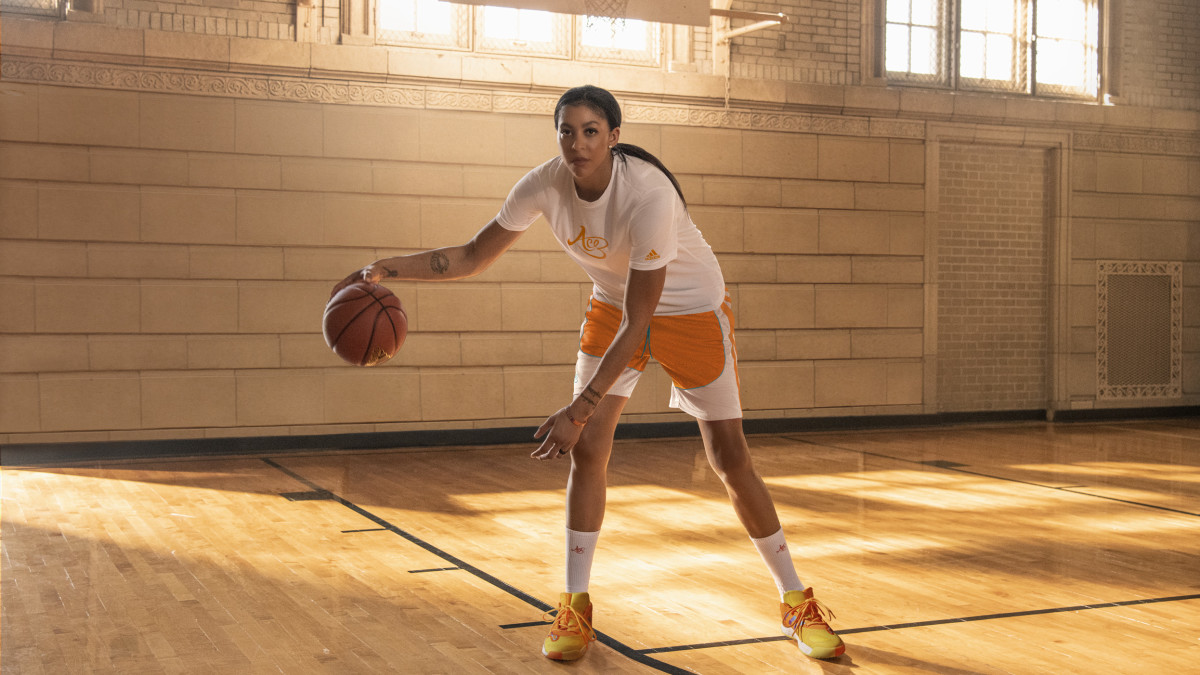 In the ever-changing landscape of the basketball shoe industry, there isn't an abundance of athletes who have made their entire careers with just one brand. NBA and WNBA players often enter their league wearing a single mark, then make at least one change before their playing careers end. For Candace Parker and Adidas, this is far from the case.
Since playing high school at Naperville Central, Parker has represented the Three Stripes. And now, in the 13th year of her illustrious WNBA career, she is set to release the ACE collection. The collection will include three colourways of its Exhibit ACE PE, a full performance clothing line and Ultra Boost which will all launch on September 23 at Dick's Sporting Goods and other retailers across the country.
Parker's playing career began in her hometown of Chicago for high school, then took her to Tennessee where she played her college ball under the iconic Pat Summit. In 2008, she was drafted number one overall by the Los Angeles Sparks, winning MVP and Rookie of the Year in the same season and became the WNBA champion. It wasn't until the 2021 season that Parker finally returned home to the city of Chicago, signing as a free agent with the Chicago Sky. Not only did Parker unveil her signature collection in the city that raised her, Chicago Mayor Lori Lightfoot officially declared Candace Parker Day on September 16.
Representation and empowerment of women are major themes of the collection as it serves as a commitment to women's sport, showing aspiring women that it is possible to have their own signature collections. Each sneaker is loaded with personal touches from Parker's entire career, including nods to Pat Summit through Parker's tattoo on the shoe's insole, his childhood nickname "Can Do" on the shoe. heel, and more.
Before the release of the ACE collection, we caught up with Candace Parker in her hometown of Chicago. The conversation has been edited for clarity.
Can you start with the inspiration behind the whole collection and what it means to see your name on a product that is going to be marketed?
It means a lot you know, ACE means so much to me just in terms of my journey with Adidas. And I think the collection really came to life, the stories behind Tennessee you know, Pat [Summit] is honored here, my daughter is pictured here, my nickname from, since when I was a child is here. I think there are only little pieces of me, my story and my journey that tie into this and make it so special.
You mentioned that trip with Adidas. You've been with them since your days in Tennessee, and further afield in high school. Can you talk about what it means to have been with them all the way?
It means a lot, it means so much. Loyalty is an integral part of it and I think in this relationship we have improved. Adidas obviously stayed with me to have my daughter, to become a mom and to go abroad and the injuries. Never having hesitated and they are supporting me so I'm really happy to be able to create this ACE collection with them.
You've talked about growing together with the brand, but how have you seen Adidas grow over the years?
First of all, committing to a women's shoe right out of college is a huge commitment and something that I was very honored to be a part of now 10 years later. Dick's Sporting Goods and Adidas coming together for this collection, I think that just speaks to where we are and where women are in sport.
Is it even more special to be able to unveil this collection in the city of Chicago, your hometown?
It means so much, it's a complete moment. I left when I was 18 and come back to 35. It's super special to be able to come back and show my daughter where I grew up, the courts I played on and the gyms I have. play. This is where I grew up and it's super special.
So the mayor of Chicago surprised you by officially declaring today Candace Parker Day, how much of an honor is that?
It means a lot, honestly, it's one of those things where it's like I grew up in the city of Chicago, as a young girl trying to be like her brothers. I think it's for everyone, it's for my teammates, my coaches, my friends, my family, those who have supported me from the start. It's for them.
The focus of this ACE collection really seems to be empowering women and a role model for young girls in sport and beyond. Can you tell us how important this is?
I think visibility is super important and seeing women in leadership positions and representing them. I think this is a step in the right direction. And I think it's important that we continue to empower women and girls.
Outside of this collection. What other steps have you seen Adidas take to empower other female and creative athletes?
I think it's a commitment to women's sport. It's a commitment to a number of things, you know? But I would like to continue this relationship and continue to grow because it is important to me. I love ACE, but I want there to be another one. I want it to open two, three or four doors. So I hope that's what he does.
How will it be to see fans wearing a product with your name on it?
Dude, I don't even know. I remember the first time in LA when I was walking past the beach and someone had my shoes and my swimsuit pulling on the courts and there is nothing like it. Especially when you see someone outside the arena with your things. So I think it will definitely be amazing. I could stop and ask them for a photo.
You have obviously been with Adidas from the start, so what are your favorite sneakers that you have kept memories with throughout your career?
The Pro Models are probably my reference. They were the first ones, then I think of the Crazy Lights. These are super memorable and relate to specific moments in my career. Obviously, my signature shoe, the ACE Commander was a great fair in terms of involvement. These are probably my greatest sneaker moments.
You've come back and brought Kobes out a lot lately. Can you talk about what kind of impact it has had on your career and how excited you are that Adidas is bringing these sneakers back?
I just remember Afro Kobe with those iconic Adidas moves, that's what I call it. but it's special because I think you see when, how much detail and love he put into the game. He's part of the reason I wear it and represents Adidas because of the love that he had for the game, how much he inspired another generation. And his children, I want them to know that their father left a huge mark that will never be erased.
Chances are good that now your sneakers will be sold in the same store as the returning Kobes. How much does this mean to you?
It means so much, I think it's super special. It's part of the reason I wore Adidas from the start. Because of Kobe and because of his shoes.