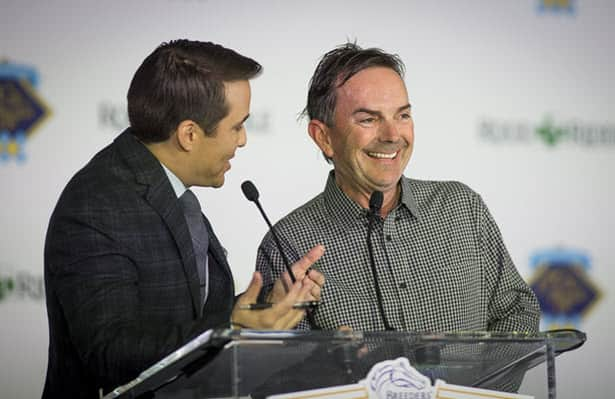 Peter Eurton won the Blue Grass (G1) and two other graded stakes at Keeneland, but the longtime Southern California-based coach had largely steered clear of the Kentucky center track. This changed at the current spring meeting.
Eurton shipped a six-horse string to Keeneland, and it paid immediate dividends when Dream Shake came off the bench as the first starter to score in an entry-level six-stay allocation.
"We sent horses from Kentucky, horses that had conditions that we thought could compete," explained Eurton, who won the 2014 Blue Grass with Dance With Fate when he ran on synthetic. The 64-year-old Alhambra, California native also won the 2013 Raven Run (G2) with Madame Cactus and the 2015 Commonwealth (G3) with Kobe's Back.
Eurton's second starter to meet Keeneland comes Thursday in a premier tier allowance going 1 1/16 miles, which is carded as the sixth run. I have a daughterwho comes out two sprints on the Santa Anita turf downhill course, will come off the rail under Luis Saez.
"I've always wanted to try racing horses here for these particular clients," Eurton said of I Got a Gal's ownership group, Commonwealth Thoroughbreds, Exline-Border Racing and Michael Jawl. "We thought she would be a good candidate. She has her condition available and she seems to want to go a little further. Now, if she likes sweeter things, we'll find out. But it looks like a good place and she seems to be competitive in it.
The race drew a field of 12 plus four equally eligible. I Got a Gal is the morning line favorite 7-2 in the main body of the peloton, but Eminent Victor also eligible for Chad Brown is 2-1 in the program if she retires.
Eurton spoke on Wednesday with horse racing nation from Keeneland for this last visit to the barn.
dream shake. On last weekend's return after a nearly 7½ month layoff, the 4-year-old Twirling Candy colt sat behind some horses before leading a late rally under Flavien Prat to score from a length. It was Dream Shake's first win since making his Santa Anita debut last winter, a span of 14 months and seven starts.
"It was a big effort on his part. I don't know if I fully squeezed him, but he runs cool," Eurton said. "We wanted to give him a run and have somewhere to go after. "
That location will be Churchill Downs, where Dream Shake will run either in a second-tier allocation during Kentucky Derby week or possibly in the $160,000s. The Knicks spend the night go a flat mile on the May 7 Derby undercard.
Last year, Dream Shake hit the board in both the San Felipe (G2) and Santa Anita (G1) Derby before running a gallant second behind eventual champion Jackie's Warrior in the Pat Day Mile (G2 ) on the Churchill Downs strip.
Dream Shake has an 8:2-1-2 record and earnings of $350,210 for owners Exline-Border Racing, SAF Racing, Stonestreet Stables and Richard Hausman.
Storm the yard. The 2019 2-year-old champion male made a promising return to Oaklawn Park on April 2 after nearly 13 months on the sidelines.
Breaking away from the rail under Prat, Storm the Court followed suit in a second-tier allowance over six furlongs before fading into the stretch and finishing fifth of nine.
"I thought it was a good effort to get out of a hole and be pushed by another horse all the way," Eurton said. "Prat says he was very happy and will fight back. He seems to be training well. We will work out exactly what we want to do with him, but it will probably be either one mile on grass or two laps on dirt.
Per Court Vision, Storm the Court clinched their championship in a 45-1 upset at the 2019 Breeders' Cup Juvenile. In 15 starts, this remains their only win other than a maiden win against maidens.
lady mystify. This is another upcoming starter from Keeneland. Eurton entered her on Wednesday for a top two-round allocation on Saturday but said the race did not fill out. Bernardini's 4-year-old daughter, who recently finished seventh in the March 12 Azeri (G2) at Oaklawn Park, will instead be moved to the $300,000-a-week Doubledogdare (G3) starting Friday.
Lady Mystify won Remington Park Oaks (G3) last year and boasts an 8:3-2-1 mark with winnings of $261,020 for owners Exline-Border Racing, SAF Racing and Hausman.
Sharapova. Eurton plans to go on a graduated stakes hunt with this 4-year-old filly after a clean win in the black-type Harry Henson Stakes at Sunland Park on March 27. Next up for the Outwork girl will be a tilt in the $200,000 Santa Margarita (G2) running 1 1/8 miles at Santa Anita on April 30.
"She came out of it in good shape and the other day had a nice half-mile breeze with (Hall of Fame jockey) Mike Smith," Eurton noted.
Sharapova beat her first shot last May on her third start and then went straight to the sidelines. She finally resurfaced this winter at Santa Anita and had hit the board in two optional claiming starts before earning her first victory in the Harry Henson.
Canadian pride. He also made the trip to Keeneland after a non-threatening third in the San Carlos (G2) on March 5, won by Cézanne, on his debut at Santa Anita. Eurton said the 5-year-old gelding will likely start in a high-level allocation scheduled for the end of competition.
"We thought it would be fun to bring him here," Eurton said. "He did a good half mile (last Saturday) and seems to be really enjoying this circuit. His energy is good and we're pretty excited about his opportunity to go six and a half furlongs here on the 29th."
Owned by CRK Stable, Canadian Pride is 3-4-2 in 13 starts with earnings of $201,700.
Queen of Thorns. Kentucky Oaks hopes for second-placed Las Virgenes (G2) were dashed when she dumped jockey Victor Espinoza shortly after the start of the Sunland Park Oaks on March 27.
"She ripped a quarter off and took the other shoe off, so she was really, really bad when she got home," Eurton said. "But thank goodness she cleaned up nice and is back on the jogging track. She didn't gallop."
Eurton is unsure what might be next for Violence's daughter.
"We're in no rush, we'll let her tell us when she's ready," he said. "If she goes out there and grabs it again, or gallops and sort of grazes it, then it will open up again. So we just want to give it a chance to keep improving."