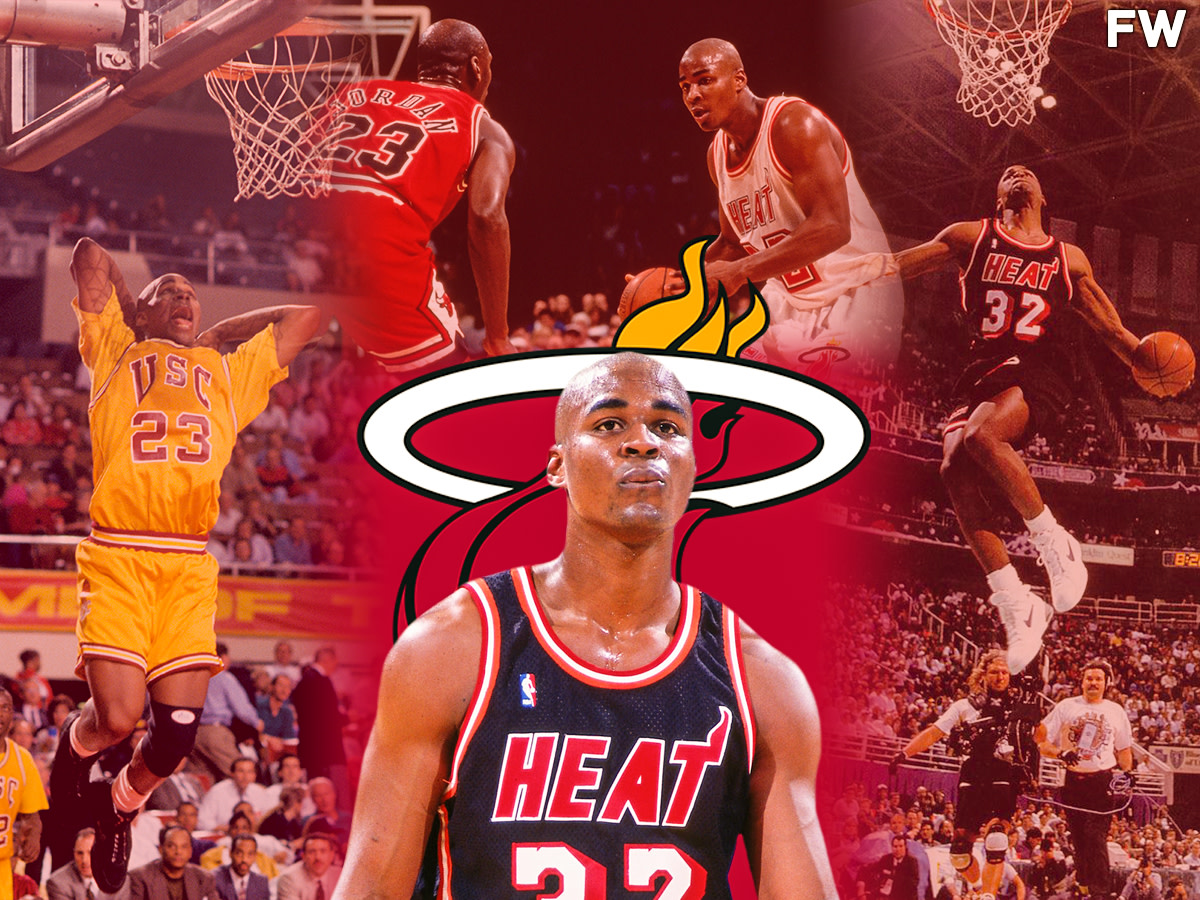 The NBA has been looking for the next Michael Jordan since Jordan entered the league.
From his high-flying act, his shots, and his shoes (it must be the shoes!), It's easy to see why the NBA wanted to find another star who could match Jordan's charisma.
It was engraved in everyone's mind. You couldn't escape it. I mean, the Gatorade ad that you'd see half a dozen times a day said, "If I could be like Mike."
We've seen a lot of "the next Jordan" come through the league. Some have worked, like Kobe Bryant and LeBron James.
Others have had promising outbreaks, but the flame died too quickly: Anfernee "Penny" Hardaway, Grant Hill, Tracy McGrady, Vince Carter.
These players may not have lived up to the shadow of Michael Jordan, but they have stood their ground and had respectable careers.
What if I told you there was another "next Jordan" named Harold Miner.
If you are a basketball enthusiast, you might know him. If you're a casual fan, you probably have no idea who I'm talking about.
If you are the latter in this situation, no worries. I'm going to give you a history lesson on the player who was nicknamed "Baby Jordan" in high school.
Miner attended Inglewood High School, where he got comparisons to Michael Jordan when he was a junior.
Miner averaged 27 points per game as a junior, but it was more the way he scored that made the comparison to the NBA GOAT.
Like Jordan, Miner flew through the air. His top-flight slam dunks wowed local crowds, and it quickly won the comparisons.
In his senior year of high school, Miner's play was pretty much the same as the year before. 28 points per game and more acrobatic slam dunks.
Miner caught the attention of many top colleges, but he chose to stay close to home by selecting USC.
"Baby Jordan" continued to wow crowds throughout his college career. As a junior, Miner averaged 26.3 points and 7.0 rebounds per game.
Miner would be named College Basketball Player of the Year by Illustrated sports. He beat the best college players like Christian Laettner, Alonzo Mourning and Shaquille O'Neal.
Miner's USC Trojans won the second seed in the Midwest region. They would ultimately be upset in the second round by Georgia Tech on a last second shot from James Forrest.
After his junior season, Miner decided to bring his talents to the NBA. He would be selected 12th in the 1992 draft by the Miami Heat.
Hope was high for Miner, the next Jordan, aka "Baby Jordan". On December 30, 1992, Miner would get his first shot at Michael Jordan.
The game would not promote "Baby Jordan". The Chicago Bulls defeated the Miami Heat, 105-100. Jordan scored 39 on 9-18 shots.
Miner, meanwhile, scored 10 on 5-14 shots. The "old Jordan" definitely got the best of "Baby Jordan" in this game. This includes a big block Jordan had on Miner.
This piece roughly summarized Miner's career. As Jordan blocking him in the game, the "Baby Jordan" label affixed to him seemed to block him during his career.
Everyone had very high hopes for Miner, and the pressure was something Miner couldn't handle well. In addition to the pressure, a lingering knee injury also plagued him.
After three seasons as a member of the Miami Heat, averaging 9.6 points per game, Miner was traded to the Cleveland Cavaliers.
The Cavaliers never wanted to keep Miner as they traded him to the Toronto Raptors for center Victor Alexander. The trade would be canceled four days later when Alexander failed his physical exam.
Miner ended up playing 19 games for the Cavaliers, averaging a dismal 3.2 points per game.
The Cavaliers would quickly give up on Miner, which ultimately ended his career. The following season he tried for the Raptors but was cut in preseason.
Like many players who suffer the same fate, Miner briefly considered a career abroad, but quickly ended the idea.
Miner also decided not to try for another NBA team, and he retired from the game, playing just 200 games.
In a strange twist of fate, Miner's last NBA game was against Michael Jordan and the Chicago Bulls.
The Bulls won the game 102-76. Now, while Jordan lacked his normal dominant play, he was only scoring 14. Miner would be held scoreless in just 5 minutes of play.
USC Miner's head coach George Raveling had this to say about Miner:
"I always thought the worst thing that ever happened to Harold was the 'Baby Jordan' tag."
Since retiring from the NBA, Miner has stayed away from the public. He would later marry, move to Las Vegas, and become a stay-at-home dad.
Many people have wondered what happened to the former NBA player who was no longer in the public spotlight.
There were rumors that Miner had joined the witness protection program or worked at a fast food restaurant in Los Angeles, or even that he was an LAPD cop.
In fact, he just wanted a normal life, and you can't blame him.
Miner returned to the public limelight when in 2011 he entered the Pac-10 tournament and was inducted into the conference Hall of Honor.
Miner also made an appearance in 2012, when his number 23 jersey was retired by USC.
Even though his NBA career hasn't lived up to the hype, he's had some brilliant moments. These moments came during the NBA Slam Dunk contest.
Miner took part in two slam dunk competitions (93, 95). He would win both contests, proving he was one of the best dunkers in the game.
Unfortunately, his success in the Slam Dunk Contests could not follow him in his playing career.
But if that proves anything, it's extremely difficult and stressful to live up to the hype of being the next Michael Jordan.
Next
He got a game: the story of how Kobe Bryant, Tracy McGrady and others almost won the role of Jesus Shuttlesworth over Ray Allen
NBA game opener story: Tickets sold for 75 cents to $ 2.5
Malice at the palace: the story of the interior
Bobby Phills: The story of his untimely death on his son's inspiring journey to make the NBA
From his violent past to his denial of a $ 21 million contract: the story of how Latrell Sprewell ruined his career