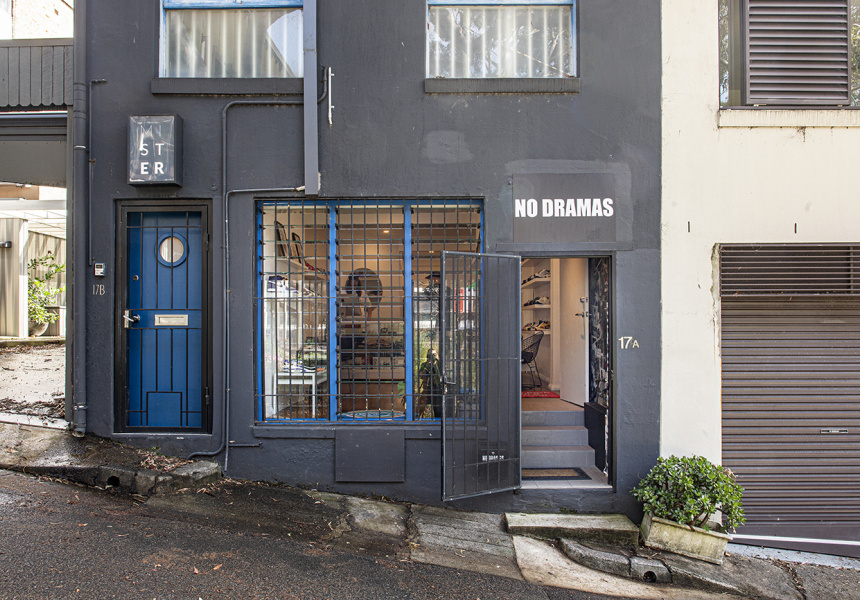 Have you ever set yourself a calendar reminder to try and score a new release or a limited edition shoe or apparel, but ended up missing something? The new version of Palace is sold out? Are those limited edition Nikes that disappeared in 60 seconds now on resale sites at a considerably higher price? No Dramas has you sorted – it's a new store in Darlinghurst offering rare and selected pieces with no waiting list in sight.
No Dramas is from Henry Davidson, who cultivated his sneaker knowledge at fried chicken and shoe supplier Butter in Surry Hills and Parramatta. It's a place to shop for pieces from hard-to-find streetwear brands, as well as rare items and one-of-a-kind collectibles.
Tucked away in a small lane in Darlinghurst, No Dramas' small floor space belies the crowd of treats for fans of sneakers and street culture pieces.
"No Dramas is built on all the experiences and influences I've had over the years," Davidson says. "It's a hybrid of limited-edition sneakers and apparel, carefully curated items from local independent brands, and an assortment of publications and accessories."
The store emphasizes the second life of products in a climate of fast fashion and unique pieces that consumers could buy for special occasions. "We're not your typical thrift or vintage store that will accept any heavily used item just for the sake of it; we focus on each item, its style and its story," says Davidson.
A huge range of Supreme merchandise is one of the big draw cards here, with everything from $2,500 boxing gloves to ceramics, bottle openers, stickers and hard-to-find apparel collaborations. These pieces can usually be hard to find, but No Dramas does the hard work for you, tracking down and curating a selection that will appeal to both casual and serious collectors.
You'll also find a range of Nike Airs, clothing from Carhartt, Yeezy sneakers, pieces from the Off-White and Nike collaborations and even commemorative plaques from the Sydney Olympics.
Davidson says the future of retail in this pocket of Darlinghurst holds promise for creative, street-focused and design-focused brands. "With – in my opinion – the biggest names in Australian retail, such as Flipside Distribution [Supply Store, Stussy, Carhartt]Pass Port and Pam Store being our neighbours, we hope to attract more people to Darlinghurst."