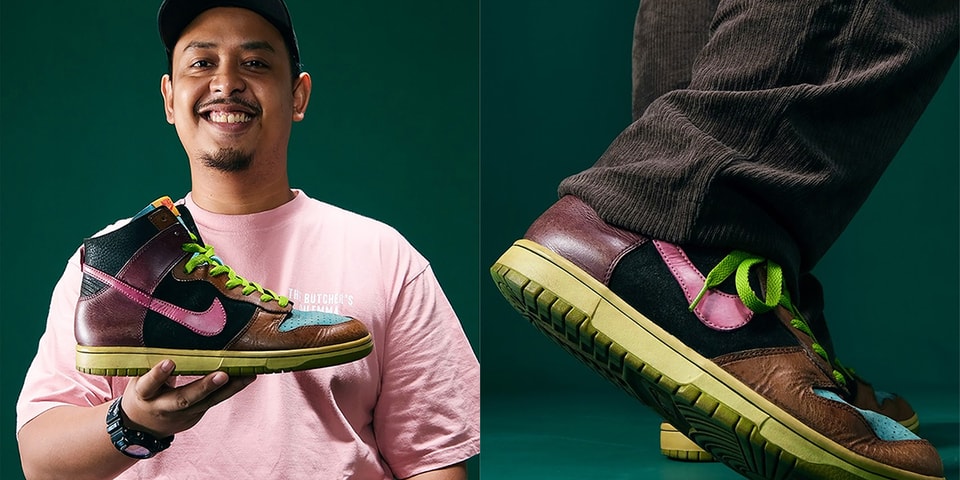 Streetwear and sneaker culture has seen a noticeable increase in popularity across Indonesia in recent years and this can be attributed to two things: the rise of social media and the emergence of new retailers. The former allowed residents in that corner of the world to be exposed to news and trends that surround the industry while the latter gave them better access to real products. And that deep appreciation for the lifestyle has spilled over into its local communities, as many have put forth valiant efforts to organize sneaker-focused community rallies and events, as well as create engaging content.
And a person who strives to propel this movement forward is Polo Pandu — a shoe enthusiast and co-founder of the Indonesia basketball team (IST) – one of the largest sneaker communities in the country. His burning passion for sneaker history and storytelling compelled him to educate his peers about the industry and form lasting bonds.
In this new episode of Sole MatesPolo took the time to sit down with HYPEBEAST and rave about UNDEFEATED Nike Dunk High NL's design, his favorite silhouettes growing up, his aspirations to push the IST forward and more.
HB: You've always been someone who has a thing for sneakers. How did you come to sneakers in the first place?
PP: I really started falling in love with sneakers around my elementary school years. I think it started in ninth grade when I started playing basketball. At that time, I was gravitating a lot towards Kobe Bryant's iconic shoes, especially the adidas Crazy 8. From there, I started to take more interest in them and delved into shoes from Jordans, Pippen and Rodman with Nike and Converse.
So what was the most memorable first sneaker for you?
Aside from the adidas Crazy 8, I certainly have fond memories of the Nike Air Zoom Flight 95 and the Nike Air Zoom Flight 5.
You have chosen the Undefeated x Nike Dunk High NL for your Sole Mates selection, what speaks to you in this shoe?
I love the mix of colors on this shoe. I remember drooling over them when I first saw them. I love that even though the colors are vibrant, they aren't merged in a sticky way. Moreover, the shoe is made with quality leather and premium nubuck and suede materials. I was lucky enough to purchase these dead animals from a friend at a price that many would consider a steal considering I picked them up several years after they were originally released.
You are one of the founders of Indonesia Sneaker Team (IST), a sneaker community that unites all sneaker enthusiasts from all over Indonesia. Can you tell us about its genesis and how its movement has developed so far?
It's crazy because we've gotten so much bigger over the years. Now we cover several cities in Indonesia which counts for about 15-17 regions. It all started with a meeting via a forum in Kaskus called Sneakers Addict. From there, several members began to organize other rallies and the Indonesia basketball team was born. Our dream was to be able to embrace all sneaker lovers and become a community that could represent Indonesia. I can't believe we are celebrating our 11th anniversary this year.
"The main goal when I started IST was to build and be part of a strong community, and to represent Indonesia internationally."
How many members have joined IST since its creation? Is there a difference in taste of sneakers between generations?
If I remember correctly, based on initial, internal and management, and regional membership, maybe around 100 to 150 people. Personally, I think as long as you love the sneakers, are present and active on the Facebook page, follow IG and come to our events, then you are considered part of the IST.
Taste-wise, everyone in the group definitely leans towards different types of sneakers, references and brands. However, the way I see it is that at the end of the day, we all love sneakers and love to talk about them and that's our common thread.
According to you, what is the main objective of starting the IST? With IST moving from an online community to a business, where do you want IST to go in the future?
The main goal when I started IST was to build and be part of a strong community and represent Indonesia internationally. Sometimes if you look at other communities it's all about the collections, but in this community the connection between each other and the passion and knowledge sharing that we have for the products and the sneaker culture is quite deep.
I would say the community is more offline than online. We make a solid effort to meet and reunite. In terms of future direction, I see us developing our media platforms and potentially becoming a job site for those who are passionate about Indonesian products and culture.
"Sneakers have become so mainstream and have become one of, if not the most important, fashion statement. I also love that there are really no age or gender restrictions in our sneakers. days.
What would you say you look for in a sneaker before copying it?
I have always based my taste for sneakers on the model, the comfort and the color. The story behind the sneakers and the collaborative storytelling is also what adds significant value to me. Today, I also learned to like models with obscure shapes. I'm always very meticulous about what I buy and definitely consider myself a person of quality rather than quantity.
What do you think is the difference between today's sneaker industry and that of the past?
Certainly the quality of the products themselves. I think the production has dropped somewhat these days and the materials and technology of the shoes are not as durable even though the prices have gone up. In general, too, the culture has changed radically. Sneakers have become so mainstream and have become one of, if not the most important, fashion statement. I also love that there really are no age or gender restrictions in sneakers these days.
Do you have any sneakers you are still looking for?
Wow, it's really hard to decide because I have so many on my wishlist. I would definitely say all City Pack SB Dunks, Futura x Nike SB Dunk High "FLOM", Dunk High "Deftones", Hello Kitty x Nike Air Presto and Nike Footscape Woven HTM.
This issue of Sole Mates originally appeared on HYPEBEAST ID and has been edited accordingly.