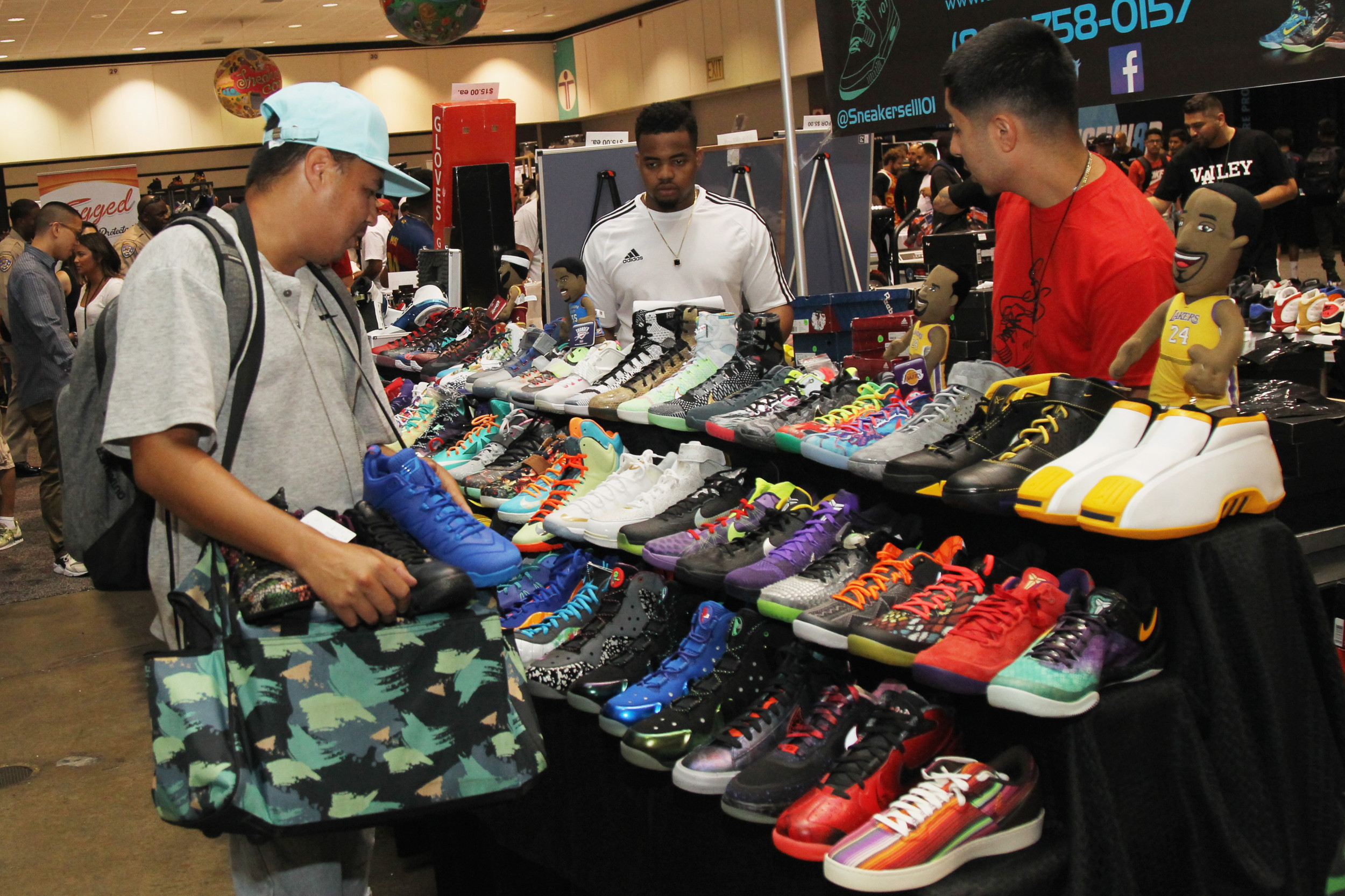 A convention that would feature "the world's largest sneaker collection" is set to begin in Cleveland, Ohio, next weekend.
Sneaker Con, a large gathering of so-called "sneakerheads" hoping to browse, buy and sell pairs of collector's shoes, will take place on Saturday at the Huntington Convention Center in Cleveland. The event is billed as a hub for the world's largest collection of collectable athletic shoes, including many rare pairs, according to Cleveland.Com.
It's unclear how many pairs of shoes will be on display at the convention, but they will likely exceed the 2,388 pairs that Guinness World Records counted as belonging to the world's largest sneaker collection record holder, Jordan Gellar in 2012. Although three sisters were later reportedly claiming the new record after amassing over 6,000 pairs, Gellar remained the official record holder on Monday.
The world of collectible sneakers has grown into a multi-billion dollar industry, with sought-after second-hand pairs often fetching hundreds or thousands of dollars for collectors. Although a pair of Nike sneakers worn in NBA basketball icon Michael Jordan's rookie season sold for almost $ 1.5 million at an auction in October, the sale price did not reach the record for the most expensive sale.
The record for the most expensive sneaker sale was set in April, when Kanye West's Nike Air Yeezy Grammy Prototype sneakers, which he had worn during a performance at the 2008 Grammy Awards, were sold for $ 1.8 million at a private sale.
The lucrative nature of the burgeoning sneaker collection market has also attracted a host of unscrupulous dealers of counterfeit sneakers, prompting Sneaker Con to introduce an authenticity program that uses NFC technology to digitally mark authentic pairs. . Last month eBay acquired Sneaker Con's authentication business.
Sneaker Con was created by a group of New York-based sneaker enthusiasts in 2009, and has hosted over one million convention attendees in over 40 cities around the world. The events aspect of the business will continue independently of eBay.
Actor Jeff Goldblum investigated the increasingly popular sneaker-collecting phenomenon on a visit to a previous edition of Sneaker Con in the first episode of his Disney + series. The world according to Jeff Goldblum in 2019.
While the next Cleveland Sneaker Con has yet to take place, another edition of the event is slated to take place next month in Fort. Lauderdale, Florida. In addition to the US-based conventions, previous iterations of the event have taken place in countries like Canada, Australia and China.
Tickets for the full-day Cleveland convention, which features prizes, "exclusive flights and offers" and an "eBay authentication guarantee booth," are available online for $ 25.
News week contacted Sneaker Con for comment.