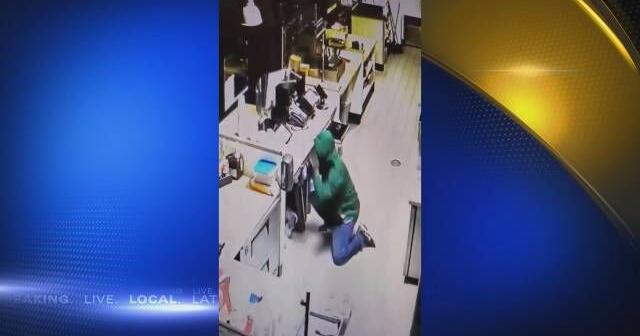 EUGENE, Ore.– Wayback Burgers owner Farhan Khan is asking for the public's help in identifying a man caught on surveillance footage breaking into their store and allegedly stealing cash from the till .
This location is on Division Avenue in Eugene.
Khan believes it happened around 5:45 a.m. Sunday morning.
"A guy came, on a bike, he went to the side of the building and he broke the bottom panel of the window," Khan said. "He didn't even break it, he removed the piece of metal and then the glass. I don't know how he did it."
Khan said it was clear the target was the cash registers because he wasn't going anywhere else, according to the video.
"The first register wouldn't open for him," Khan said. "Then he tried the second one and made money from it."
Khan said her daughter was the first to notice the break-in when she came to the store on Sunday morning.
He said he was very frustrated that his security alarms didn't go off when someone broke in.
"I feel violated by this," Khan said. "I'm scared for tonight. I don't know if he'll come back or not. I have no idea."
Khan said he called his security company, ADT, to find out what happened.
"I don't know why it didn't work out," Khan said. "I've had them for ten years. The one time I really needed them for work, it didn't work."
Khan said he spoke with another business owner on Coburg Road who was also robbed. He said the business owner thought it might be the same suspect based on the description.
Khan describes the suspect as a bald young man, wearing a green Under Armor jacket and black and white Nike shoes. The man may also have been wearing glasses.
Khan said he filed a police report.
KEZI has contacted Eugene Police for further details and is awaiting a response.